Puerto Rico Fireworks is proud to say they have been established for over 25 Years in Puerto Rico. We have choreographed thousands of displays in and out of Puerto Rico including Dominican Republic, St. Thomas, Culebra, Vieques and Florida. This family of fireworks is on its second generation, which was started by Mr. Angel Torres Fernandez.
1st Generation

Mr. Angel Torres Fernandez founder of Puerto Rico Fireworks has been apart of the pyrotechnic industry for over 25 years. Mr. Torres fell into this industry out of pure luck. As a member of the armed forces he was always exposed to explosions of all sorts, so when he saw an opportunity to involve himself with a small local company to make use of his spare time he quickly fell in love with fireworks and saw a huge potential in Puerto Rico. After only a short time with that company he decided to branch out on his own, so he created Puerto Rico Fireworks. Over 25 years later the company is stronger then ever. During that span of time he had 4 children all of whom grew up watching him setup fireworks displays all over Puerto Rico.
---
2nd Generation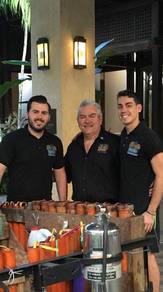 Angel Torres Jr. oldest male son of Mr. Torres grew up with a special bond to the PyroTechnic community. Since he can remember he has always worked side by side with his father learning all the Pyrotechnic traits he can acquire. He knew from a young he would take the company to new levels. Graduating from Sacred Heart University in Fairfield Conn, with a Bachelors and MBA in International Business he has been able to combine all his knowledge from his father, Traveling abroad to countries like China to see in depth look at all manufacturing aspects of fireworks, and academics to bring the company to new heights.
---